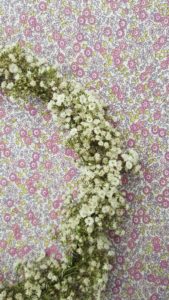 For this year's Midsummer Eve* celebration I made a simple wreath out of baby's breath. I used baby's breath because it dries very nicely and it will keep it's white color. After Midsummer It will be on the wall for decoration :D. 
* what is Midsummer Eve?
The Swedes celebrate Midsummer eve between the 19th and 25th of June. Mostly they start the day by picking flowers and making beautiful wreaths, or go to the florist to pick up a flower wreath.  They also make wreaths to decorate the maypole. The maypole is a large pole decorated with loads of green, flowers and of course the wreaths. It's standing in an open spot where a traditional dance will be preformed around the maypole. The day ends with a lot of food and drinks….oh and a lot of singing after the drinks 😉
Have a wonderful Midsummer and weekend! 
Elisabeth
PS: Photo's are made by me and the beautiful model is my daughter <3