Ik hou van halloween, maar de kleuren zwart en oranje die daarbij komen kijken spreken mij echt niet aan…..bleghhh. Geef mij maar vrolijke kleuren. Vandaar deze vrolijke en kleurige pompoenen.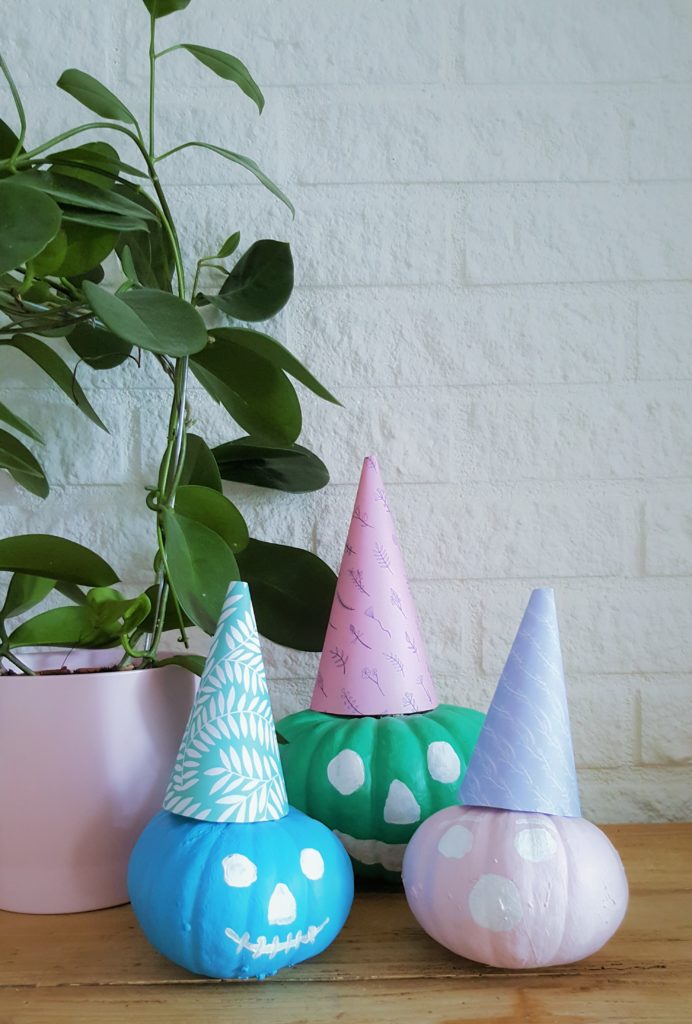 Voor deze DIY heb je nodig:
Pompoenen (nep of echt)

Acryl verf

leuk papier

kwast

schaar

passer

een beetje geduld 
Ik heb echte pompoenen gebruikt, omdat ik geen nepperds kon vinden. Gisteren zag ik ze ineens bij de Xenos liggen, dus ik denk dat ik een beetje te vroeg was. Bij thuiskomst de pompoenen een poetsbeurt gegeven en daarna beschilderd met acryl verf. Ik heb maar 1 laag hoeven te verven. Als ze droog zijn kun je het gezichtje erop verven. Maak ze vrolijk of eng, net wat jij wil. Om de hoedjes te maken ga je met je passer op een hokje van het papier staan en maakt dan een deel van een circkel. Uitknippen en dan oprollen tot een hoedje……easy peasy. Hoedje over het stengeltje zetten en je pompoenen zijn klaar.
Happy Halloween!
Liefs, Elisabeth