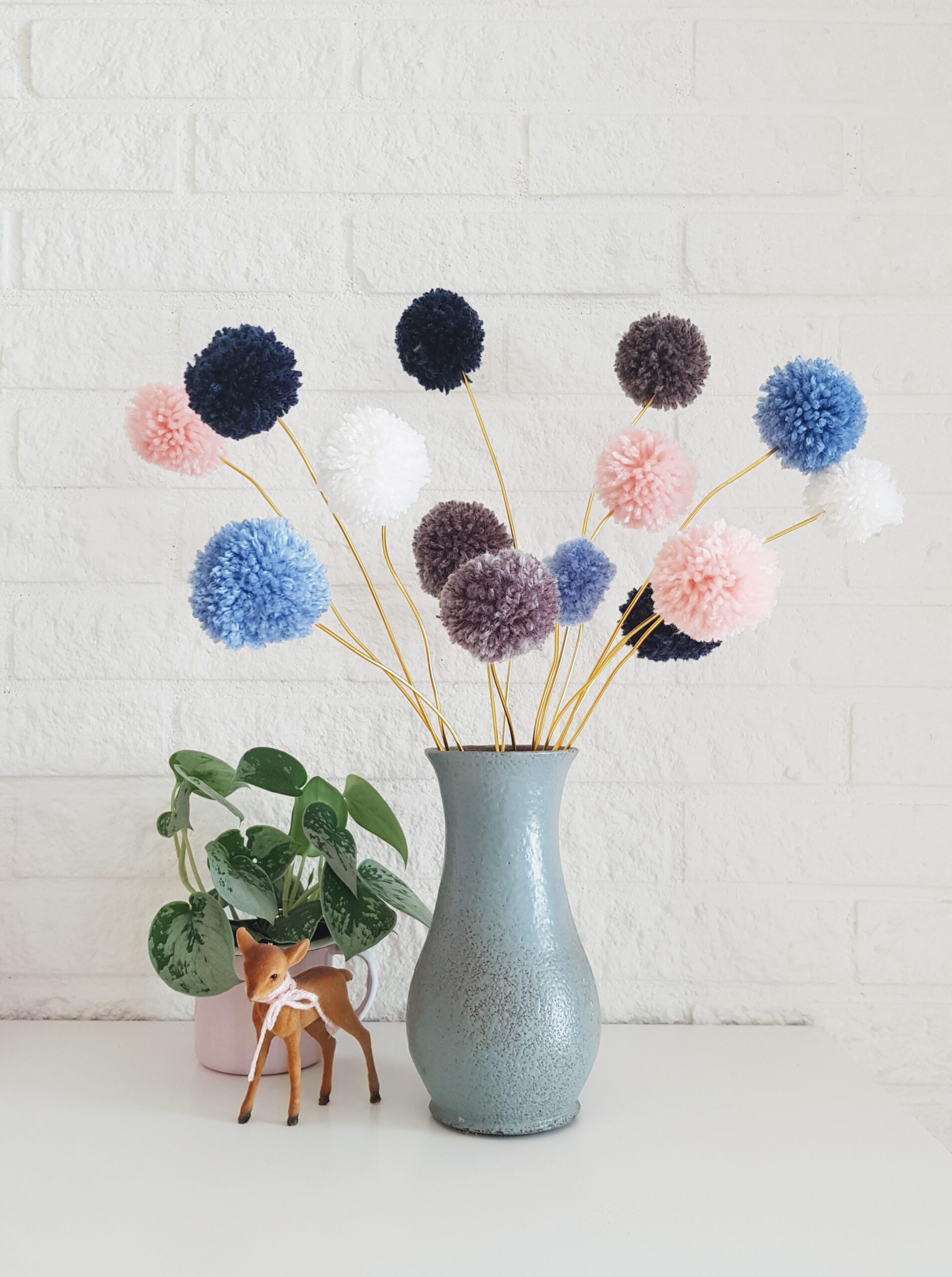 Pinterest staat altijd vol inspiratie en ik pin dan ook dagelijks op mijn diverse boards. Ook het idee voor deze pompon bloemen komt van pinterest. Het idee is zo simpel en makkelijk te maken met weinig materiaal. 
Dit is mijn resultaat na een dagje pompons maken.  

Wat heb je nodig:
Wol 

2 vingers of een vork

Schaar

Ijzerdraad of stokjes 

Lijmpistool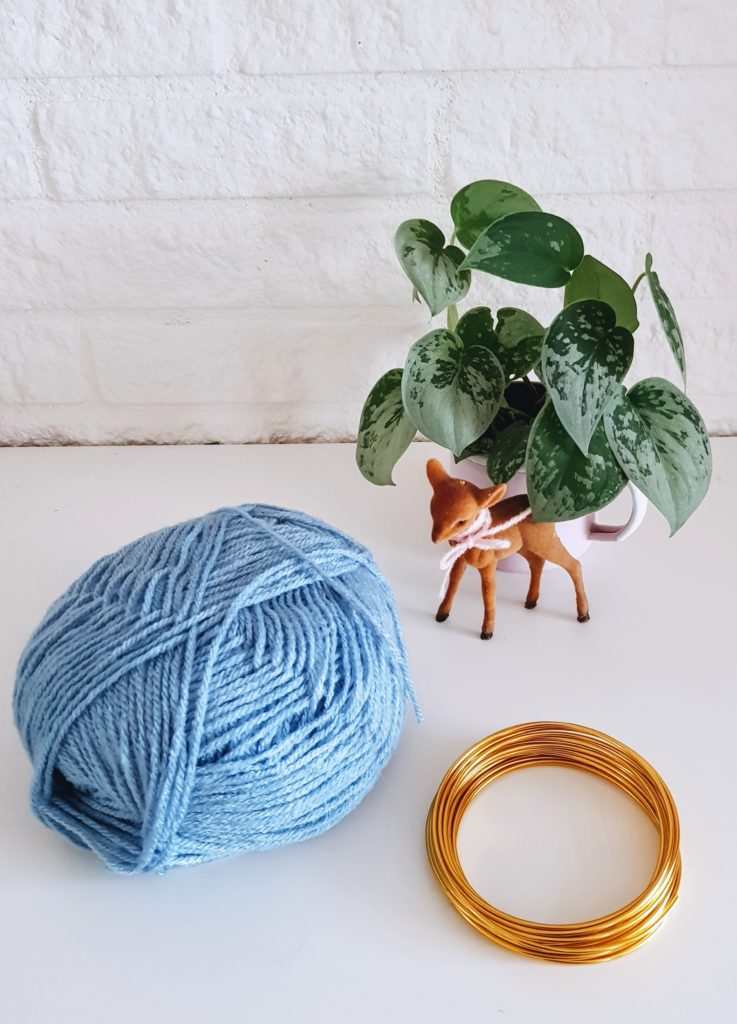 De wol en ijzerdraad komen beide van de Action. Dit ijzerdraad is soepel, maar wel stevig.
Een pompon maak je als volgt:
Je zult zien dat je pompon niet moeders mooiste is, maar dit komt goed als je met een schaartje je pompon in vorm snoeit 😉 
Als je een iets grotere pompon wil kun jet hetzelfde principe als hierboven gebruiken, maar wikkel dan je wol om 2 vingers. 
De pompon maak je met wat lijm vast op je ijzerdraad. Ik heb ze met een lijmpistool vastgelijmd, dit werkte het stevigste.  Met gewone hobbylijm donderde ze binnen 2 seconden van hun ijzerdraad 🙁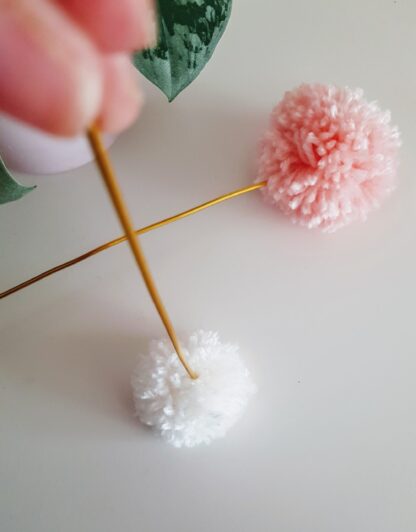 Lijm al je pompons op een draad, gebruik verschillende lengtes om er straks een speels boeket van te maken.
Zet je pompons in een mooie vaas met een niet te brede opening.  Je hebt maar dunne steeltjes en een vaas met een smalle opening zorgt ervoor dat de pompon bloemen beter blijven staan.
Het voordeel van ijzerdraad is dat je, je bloemen een beetje kan buigen zodat ze nog mooier in de vaas staan.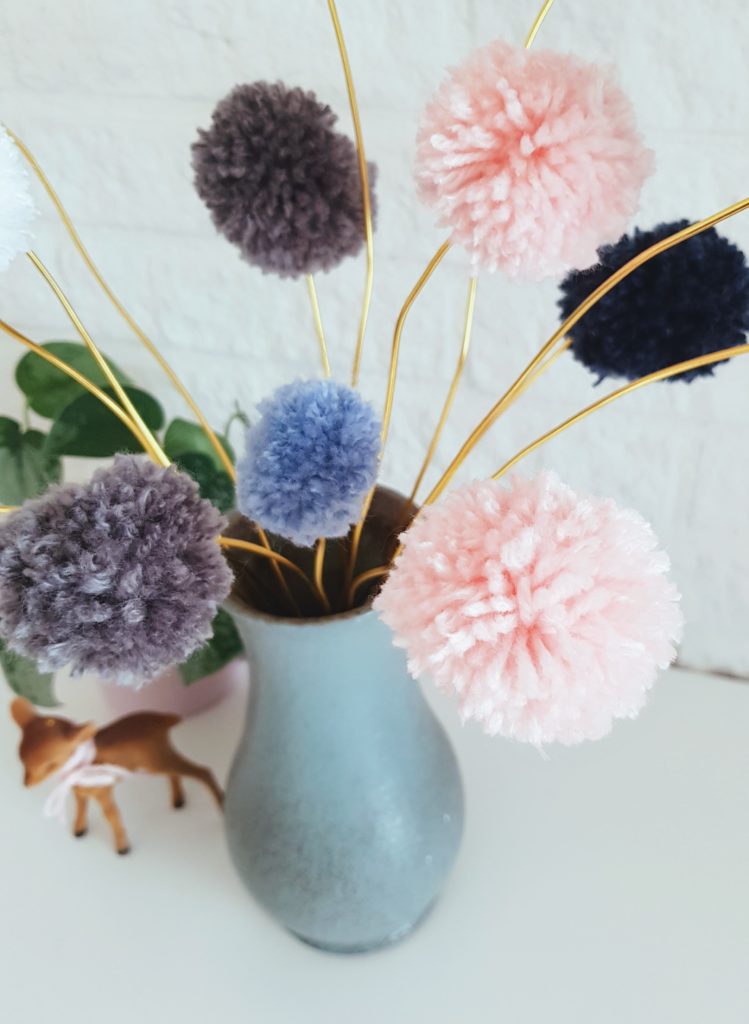 Veel plezier met het maken van een pracht boeket vol met pompon bloemen! 
Love, Elisabeth