DIY: Bloemen ijsjes
Op warme dagen vind ik het geweldig om voor mijn kids zelfgemaakte ijsjes te maken. Het is leuk om te doen, budget vriendelijk en snel. Vandaag het recept om bloemen ijsjes te maken, want dit is tenslotte een site over bloemen.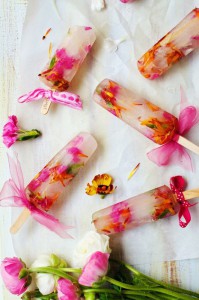 Als ik deze ijsjes maak gebruik ik altijd de siroop van Karvan Cevitam in de smaak Fresh Druif-Lemon, deze is lekker fris maar toch zoet genoeg voor de kids. De verhouding die ik gebruik is iets minder dan 1 op 7, maar ik zou aanraden om de siroop aan te lengen na eigen smaak.
De aangelengde siroop doe je dan in de ijsco vormpjes en doet deze voor 1 uur zonder de stokjes in de diepvries. Na een uur haal je ze eruit en doet de bloemblaadjes erbij. Om de bloemblaadjes er in te drukken kun je een rietje of een sateprikker gebruiken. Zorg er voor dat de bloemblaadjes goed verdeeld zitten. Dan doe je de stokjes er in en dan mogen voor nog eens 2-3 uur terug in de diepvries tot ze helemaal bevroren zijn.
In plaats van bloemen zou je bijvoorbeeld ook verschillende soorten bessen of fruit kunnen gebruiken, zoals de bosbes, bramen, framboos, stukjes aardbei, sinaasappel, kiwi, etc.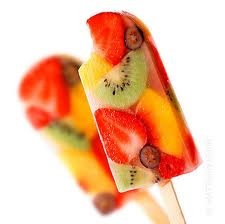 Ingredienten:
1 liter aangelengde Karvan Cevitam Fresh Druif-Lemon
Een handvol gewassen, eetbare bloemen (Bijv. Rozen, Viooltjes, Orchideeën, Calendula, Korenbloem en Lavendel) Zorg er voor dat je altijd onbespoten bloemen gebruikt of bloemen uit eigen tuin.
ijsco vorm (Ik heb laatst hele mooie van het merk Rice.dk gekocht op de site van Teitloos.nl)
Veel succes en plezier met het maken.
Liefs, Elke
Bron & foto's: familyfreshcooking.com